Dr. Prabhulal Prasad is one of the best General practitioners is a highly trained specialist who provides a range of non-surgical health care to adult patients. They care for difficult, serious, or unusual medical problems and watch the patient until these problems resolve or stabilize.

Most of their work is done with hospitalized patients and most general practitioners also see patients in their consultation rooms.

Their broad expertise sets general practitioners apart from other specialists who limit their medical practice to problems involving only one body system or a particular area of medical knowledge.


ROLES OF A GENERAL PHYSICIAN CONSULTANT
General practitioners are consultants who care for patients with special or difficult problems. General practitioners only see patients who are referred to them by other doctors, usually by the patient's own general practitioner.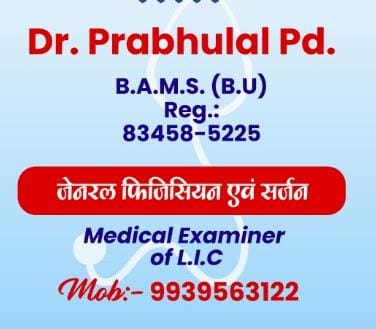 33 year Experience
---
Global outlook:
Whether referral identifies one or several health problems, the general practitioner's evaluation is always comprehensive. This global approach enables the detection of problems and consideration of clinical possibilities that might otherwise be missed.
Complex care:
General practitioners are specially trained to care for patients with complex diseases, in which diagnosis can be difficult. The general practitioner's extensive training provides expertise in the diagnosis and treatment of problems affecting the various body systems in the patient. They are also trained to deal with the social and psychological impact of the disease.
Procedures:
General practitioners are trained to perform a variety of medical procedures to diagnose and manage patients with serious and complex diseases.
Diagnosis:
General practitioners have specialized training in the usefulness, limitations, and costs of most diagnostic tests. General practitioners use diagnostic tests logically, safely and effectively to investigate difficult clinical problems.
Treatment:
General practitioners are trained in critical analysis of research reports and claims of new treatments from the pharmaceutical industry. They are knowledgeable about the complex interactions of drugs administered together to treat multiple diseases in a patient. General practitioners have special expertise in making treatment decisions to help patients with complex and serious illnesses.
Pre- and post-operative evaluation:
General practitioners are often asked to review patients prior to surgery. They advise the surgeon about the patient's risk status and can recommend appropriate management to reduce the risk of the operation. They can also assist with postoperative care and ongoing medical problems or complications.